Custom Sheds
All of our sheds built here at Garden Solutions are considered Custom Made. Each job we do has its own unique style and design. Customers have a wide variety of options to add on to the base price of the shed.
Windows and doors by far are our most popular additions. We work very closely with each and every customer to ensure they are getting the custom shed that they are envisioning.
At Garden Solutions we are dedicated to designing and building outdoor custom sheds that meets our customers requested specifications.
We provide customization of both the exteriors and interiors of our sheds with various options, such as:
Siding
Roofing
Windows
Storage lofts
Workbenches
Overhangs & porches
Decking & railing
Insulation Package
Tongue & groove pine
SnapLock Floor Installation
Electricity Package
Paint Package
Maximum gable width is 12′
Over 12′ require manufactured trusses
---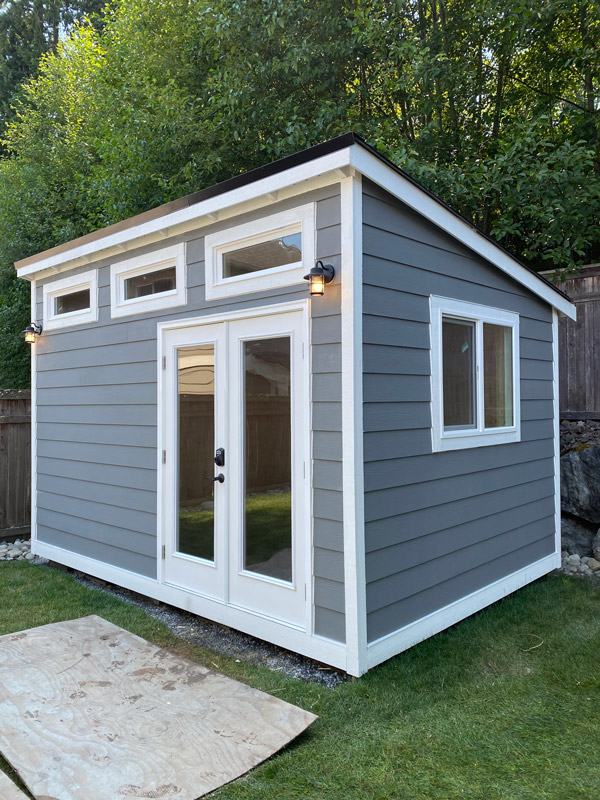 1-FORESTER-14Wx10D-MERCURI
1A-FORESTER-14Wx10D-MERCURI
1B-FORESTER-14Wx10D-MERCURI
1C-FORESTER-14Wx10D-MERCURI
1D-FORESTER-14Wx10D-MERCURI
1E-FORESTER-14Wx10D-MERCURI
1F-FORESTER-14Wx10D-MERCURI
1G-FORESTER-14Wx10D-MERCURI
1H-FORESTER-14Wx10D-MERCURI
1I-FORESTER-14Wx10D-MERCURI
1J-FORESTER-14Wx10D-MERCURI
1K-FORESTER-14Wx10D-MERCURI
1L-FORESTER-14Wx10D-MERCURI
1M-FORESTER-14Wx10D-MERCURI
1N-FORESTER-14Wx10D-MERCURI
1O-FORESTER-14Wx10D-MERCURI
1P-FORESTER-14Wx10D-MERCURI
1Q-FORESTER-14Wx10D-MERCURI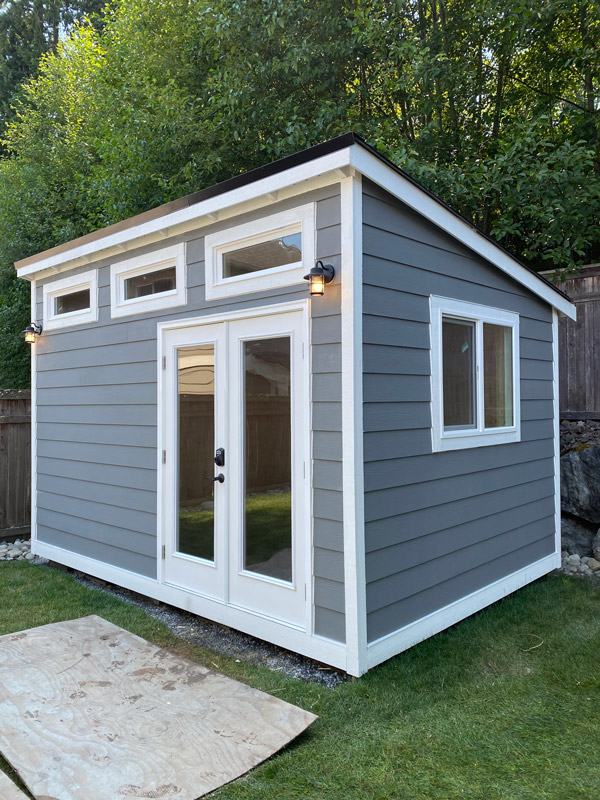 1 Forester/Single Slant Shed
Size: 14W x 10D
This customer from Bothell custom designed this 14Wx10D shed for their own personal outdoor game room. All of their vintage arcade games, pinball machines and computer fit perfectly in their shed! With the addition of our electrical package they just have to walk in and start playing! The high quality building materials we use will ensure the safety of this expensive and rare gaming equipment.
---
2-FORESTER-12Wx8D-GUIRGUIS
2A-FORESTER-12Wx8D-GUIRGUIS
2B-FORESTER-12Wx8D-GUIRGUIS
2B-FORESTER-SINGLE-SLANT-ROOF-12Wx8D-FORESTER-GUIRGUIS
2D-FORESTER-12Wx8D-GUIRGUIS
2E-FORESTER-12Wx8D-GUIRGUIS
2G-FORESTER-12Wx8D-GUIRGUIS
2J-FORESTER-12Wx8D-GUIRGUIS
2K-FORESTER-12Wx8D-GUIRGUIS
2L-FORESTER-12Wx8D-GUIRGUIS
2M-FORESTER-12Wx8D-GUIRGUIS
2N-FORESTER-12Wx8D-GUIRGUIS
2O-FORESTER-12Wx8D-GUIRGUIS
2P-FORESTER-12Wx8D-GUIRGUIS
2Q-FORESTER-12Wx8D-GUIRGUIS
2R-FORESTER-12Wx8D-GUIRGUIS
2S-FORESTER-12Wx8D-GUIRGUIS
2T-FORESTER-12Wx8D-GUIRGUIS
2U-FORESTER-12Wx8D-GUIRGUIS
2V-FORESTER-12Wx8D-GUIRGUIS
2 Forester Shed/Single Slant Roof
Size: 12W x 8D
Believe it or not this beautifully designed and customized shed in Kirkland is used for garden storage. Every exterior detail requested for this shed was made reality for the customer. The customer wanted a very specific style for a glass pattern on the doors and we were able to make that happen.
They have added the full insulation package and electrical package options to this shed. This not only adds extra protection for items in the shed and ability to see when putting away equipment in the dark, it also makes it easy if the customer ever wants to use it for something else like a home office.
---
4a-forester-single-slant-roof-8wx8d
4b-forester-single-slant-roof-8wx8d
4-forester-single-slant-roof-8wx8d
4c-forester-single-slant-roof-interior-8wx8d
4D-FORESTER-8Wx8D-GRANGER
4d-forester-single-slant-roof-interior-8wx8d
4 Forester Shed/Single Slant Roof
Size: 8W x 8D
Our client wanted a shed with a lot of natural light, as they will be using this as an outdoor craft room. We were able to provide the customer with the best windows and doors options for producing light while keeping the shed visually appealing.
---
7-FORESTER-12Wx10D-BRUNER
7A-FORESTER-12Wx10D-BRUNER
7B-FORESTER-12Wx10D-BRUNER
7C-FORESTER-12Wx10D-BRUNER
7E-FORESTER-12Wx10D-BRUNER
7F-FORESTER-12Wx10D-BRUNER
7 Forester/Single Slant Roof
Size: 12W x 10D
This shed was designed specifically for our customer to use as her own personal yoga studio. The exterior as well as interior is very inviting and built to her specifications. The interior has our gorgeous Natural Pine Tongue and Groove walls and ceiling add on option.
This lovely Snap Lock flooring was provided by the customer and installed by us. Insulation package, Electrical package, and interior heating package was also added. A yoga studio would not be complete without a ceiling fan!
---
22-mirrored-or-double-forester-single-slant-roof
22 Mirrored or Double Forester/Single Slant Roof
Size: —
Shed design does not get more customized than this. We had a request from a husband and wife to build 2 outdoor home offices that are facing each other. This cool design completely mirror each other. The full glass double doors face each other, so they can see each other, but still have their separate work space.
---
1 Barn Style Shed
Size: 12W x 16D
No detail was left unexplored when designing this beautiful barn style shed. It was so much fun working with the client to create this barn to meet their creative vision from the windows to the paint. Flower boxes add a special touch to this customization.
---
2B-RANCHER-INTERIOR-8Wx14D-6
2C-RANCHER-INTERIOR-8Wx14D-6.12-PITCH-DSC_1158-PIC-7
2 Rancher Shed
Size: 8W x 14D
The customer wanted a customized storage shed to store and organize garage overflow. Sheds are a great option for people who want to clear space in their garages for cars or other larger items. The customer is able to use this shed for multipurpose storage items like, bicycles, tools, and lawnmowers.
The addition of a loft also adds an extra area for storage space creating extra room for bigger items down below.
---
6e-rancher-interior-10wx12d
6f-rancher-interior-10wx12d
6g-rancher-interior-10wx12d
6h-rancher-interior-10wx12d
6i-rancher-interior-10wx12d-6
6j-rancher-interior-10wx12d
6 Rancher Style
Size: 10W x 12D
A doctor in Kenmore wanted this shed specifically customized in order to have patients come in for acupuncture treatments. This was designed specifically in mind for patients to have a serene environment for their treatments and you can see this in the exterior design, placement location of the shed, and the finished interior.
---
2A-CRAFTS-12WX10D-BOLANTE
2B-CRAFTS-12Wx10D-BOLANTE
8 Rancher Style
Size: 12W x 10D
Customized Outdoor Home Gym! You can just imagine the gym equipment in this spacious shed designed primarily for health and fitness. An addition of a loft was added in order to store mats, resistance bands, and other small workout equipment in order to free up space in the shed for the larger items.
---